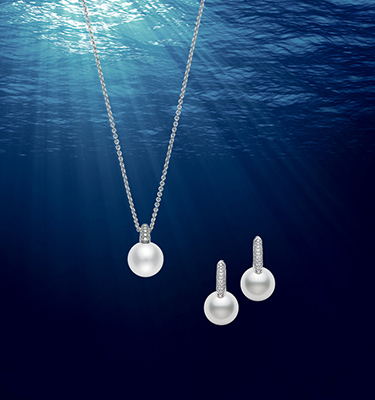 Questions? Speak With Our Experts.
---
---
When Kokichi Mikimoto succeeded in producing the first cultured pearl in 1893, it changed the landscape of fine jewelry. Mikimoto continues to offer distinct elegance and refinement with their stunning designs. Mikimoto pearls display the highest standards, to ensure their hallmark of impeccable beauty and quality as measured by a proprietary pearl grading system. Every pearl in this collection is exquisite and perfectly draws out the beauty of the special woman wearing them. Whether looking for a gift for the incredible woman in your life or to reward yourself for being an incredible woman because you deserve the best, these exceptional Mikimoto pearls offer world-class taste and style.
Our collection of Mikimoto pearls offer the most stunning options from this designer, all featuring breathtaking beauty and the highest of pearl standards. These exceptional Mikimoto pearls have been carefully crafted into expertly executed designs to keep you the center of attention. Featuring a variety of pearl options, including the traditional grace of the White South Sea cultured pearl, the slightly pink shade of the Akoya cultured pearl for a modern flair, and the striking beauty of Black South Sea cultured pearl, these exquisite selections would make a wonderful addition to any jewelry collection. Whether looking for a gift for your anniversary, birthday, or other momentous occasion, pearls are a way to show her she matters, while giving her a gift that will last a lifetime. Explore our selections of earrings, necklaces & bracelets!
With over seven decades of serving customers the most exceptional options in designer jewelry, REEDS Jewelers is proud to offer this collection of incredible pearl jewelry to you. Our skilled jewelers would be pleased to assist you in any way in your search for fine jewelry today.